Repeater and multi-repeater for PROFIBUS
Use the ProfiHub to increase the robustness and reliability of the PROFIBUS DP network. Installation is very simple and requires no modifications to the PLC program. It is ideal for older PROFIBUS networks that you want to keep working flawlessly for some time to come.
Advisor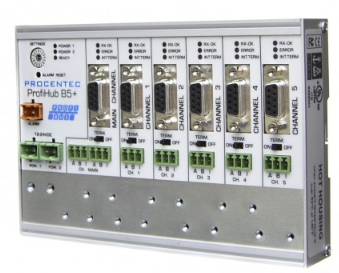 The rules for building PROFIBUS DP networks state that a maximum of 32 PROFIBUS DP stations can be connected to one segment. The second limitation is the length of the segment cabling, which is inversely proportional to the speed of the PROFIBUS network used. In addition to these rules, there is another rule of thumb that says that 32 stations in one segment means de facto 32 potential points of failure. Each PROFIBUS device has an impact on the quality of the network by its connection to the network. Therefore, reduce the number of PROFIBUS devices in a PROFIBUS segment to a lower number by using ProfiHub repeaters or multirepeaters. The result will be a maximally reinforced, reliable, functional and robust PROFIBUS network that will not be brought down by anything.

Unlike competitive products, PROCENTEC repeaters and multirepeaters have better results in galvanic separation of segments and also digitally smooth the messages between segments. An error in one segment will not move to the other segment, which unfortunately cannot be claimed 100% for all repeaters on the market. If you want quality repeaters and multirepeaters, choose PROCENTEC products.